Healthcare is a sensitive industry. The collection of patient data can not only be used to monitor patient health over time but also to drive crucial research that can benefit the healthcare industry as a whole. But Big Data Security and privacy issues in healthcare have become hot topics as data breaches are becoming more and more common in the Healthcare industry. With major data breaches occurring at UCLA Health System, LabCorp, Anthem Blue Cross & Blue Shield, these attacks have affected more than 26 million people last year. Information shared by HIPAA journal on march 2022 shows that Hacking/IT incidents dominated the healthcare data breaches reported in March, accounting for 90.7 percent of all reported data breaches and 98.3 percent of leaked healthcare records. The hacking events affected a total of 3,083,988 people.However, the healthcare industry is not alone when it comes to data security threats: any organization that stores sensitive information faces a significant risk of being hacked. Today, with the global pandemic putting healthcare organizations under even greater pressure to protect their patients' health records from cyber-criminals, industry leaders have increased their focus on Big Data Security in healthcare.
For organizations operating in the healthcare ecosystem, Big Data Security and privacy issues in healthcare are something that they have to keep in mind to ensure their patients' privacy and protection against a serious threat of data breaches. Here are a few data security tips to protect healthcare data.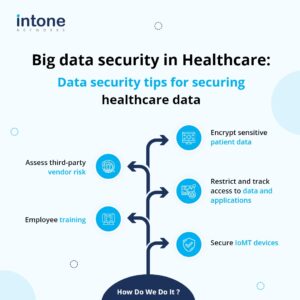 Encrypt sensitive patient data
Data encryption is a fundamental practice for implementing big data security in healthcare. Healthcare organizations should use encryption to secure their sensitive information in transit and at rest. The data should be unreadable to anyone except authorized users and intended recipients. In the event of a breach, encrypted files will be unreadable to cyber thieves since they do not possess the decryption keys. The healthcare providers can choose what encryption methods are necessarily based on their organization's workflow. 
Check HIPAA Compliance Checklist 2021
Restrict and track access to data and applications
Restricting access to sensitive patient data and applications to only those users who require access to perform their jobs reinforces data privacy and security in healthcare. For added protection, access controls such as permissions and passwords should also be applied. Access restrictions require user authentication, ensuring that only authorized users have access to protected patient data. Organizations can also implement multi-factor authentication, which requires users to validate their identity through two or more validation methods. Thus, by limiting and tracking access to protected information, security teams can easily find unauthorized users and determine the root cause of privacy issues in healthcare. 
Check AWS HIPAA Compliance Best Practises
Secure IoMT devices
With the advancement of technologies, the healthcare industry is undergoing rapid digital transformation and as a result, Internet of Medical Things (IoMT) devices are being used in hospitals. These devices enable remote patient monitoring, improved patient data access, and more. But this brings in a multitude of new privacy issues in healthcare. So, securing IoMT devices by regularly updating the devices and ensuring a thorough authentication process is one of the crucial things to establish big data security in healthcare. 
Assess third-party vendor risk
With healthcare information transmitted on a daily basis between providers and among covered entities to deliver superior care and help facilitate payments, carefully evaluating the compliance of business associates and third-party vendor risk is an important measure. Even if a data breach occurs in your organization as a result of third-party vendors' negligence, your organization will be held liable. So, it is critical to continuously monitor third-party vendors and other business associates in the healthcare ecosystem. 
Employee training
This is one of the most overlooked cybersecurity practices in healthcare. In most cases, data privacy issues in healthcare arise due to a lack of properly trained staff. Especially today as organizations continue to move to remote working models, employees are being targeted by cybercriminals while at home. This is why employees must be trained on general data privacy and cybersecurity concepts. Organizations should also run regular tests and drills that simulate cyber-attack and find the weak links. This helps reduce vulnerabilities and equips the staff with the necessary knowledge for making a smart decision during a data breach. Thus, developing a data security-conscious culture greatly supports Big Data Security in healthcare. 
As cyberattacks on healthcare organizations and privacy issues rise in volume and sophistication, being proactive and implementing Big Data Security in healthcare ensures critical patient data is being effectively protected from evolving threats. At Intone, we understand these risks. Our team of global security specialists can deliver for you a focused, risk-based security strategy, operating model, and compliance plan for your organization that builds security from an intelligent infrastructure. Our security intelligence stops attacks before they happen and helps ensure your healthcare operations are secure and compliant.
Read about Robotic Process Automation